Though the numbers fluctuate slightly year to year, only about 10% of the engineering workforce in the UK are female.
National Women in Engineering Day, June 23rd, is a fantastic opportunity to shine the spotlight on the need for a more inclusive and diverse workforce, but more importantly, it is also a chance to ignite the embers we know are lurking inside women and girls, of all ages and backgrounds, to show them that engineering is absolutely an option for them too.
We are proud to share the stories of two of our own trailblazers of AI innovation who have been defying stereotypes, knocking down barriers, and inspiring everyone around them, for as long as we can remember.

Madeleine Neil Smith - Product Owner
Madeleine Neil Smith is a Product Owner at Mind Foundry where she has been helping us keep ahead of the tech trends and be the best at what we do for the last 5 years. Before joining us, she worked at IBM, where she started as a graduate software engineer, learned what it meant to build a software product, and got interested in data analytics. When she started her career at Mind Foundry, she was heavily involved in writing the code that would turn cutting edge machine learning algorithms into something that could be used in software. During that time, she fell in love with design thinking and user experience and now focuses more on front end and UX. She can often be found with a handful of sticky notes, dry erase markers, and the creative outputs of a design thinking workshop that will help us build the next big thing.
In her own words
I've always had a technical mind and loved solving problems - and was most fascinated by problems that seemed really simple but ended up having complex outcomes (like the famous Monty Hall game show problem and the 3n+1 problem). I went to Uni to study Maths thinking that I wanted to learn the fundamental truths underpinning our reality but soon realised that the interesting stuff was Maths applied to real life problems like detecting and treating cancer cells. Technology underpins so many of the world's most interesting and difficult problems and so a career as a software engineer really appealed. It was such a privilege to join the team at Mind Foundry - not only am I surrounded by the most talented and dedicated scientists and engineers, but I also get to focus my problem solving skills on the issues that most affect us as humans.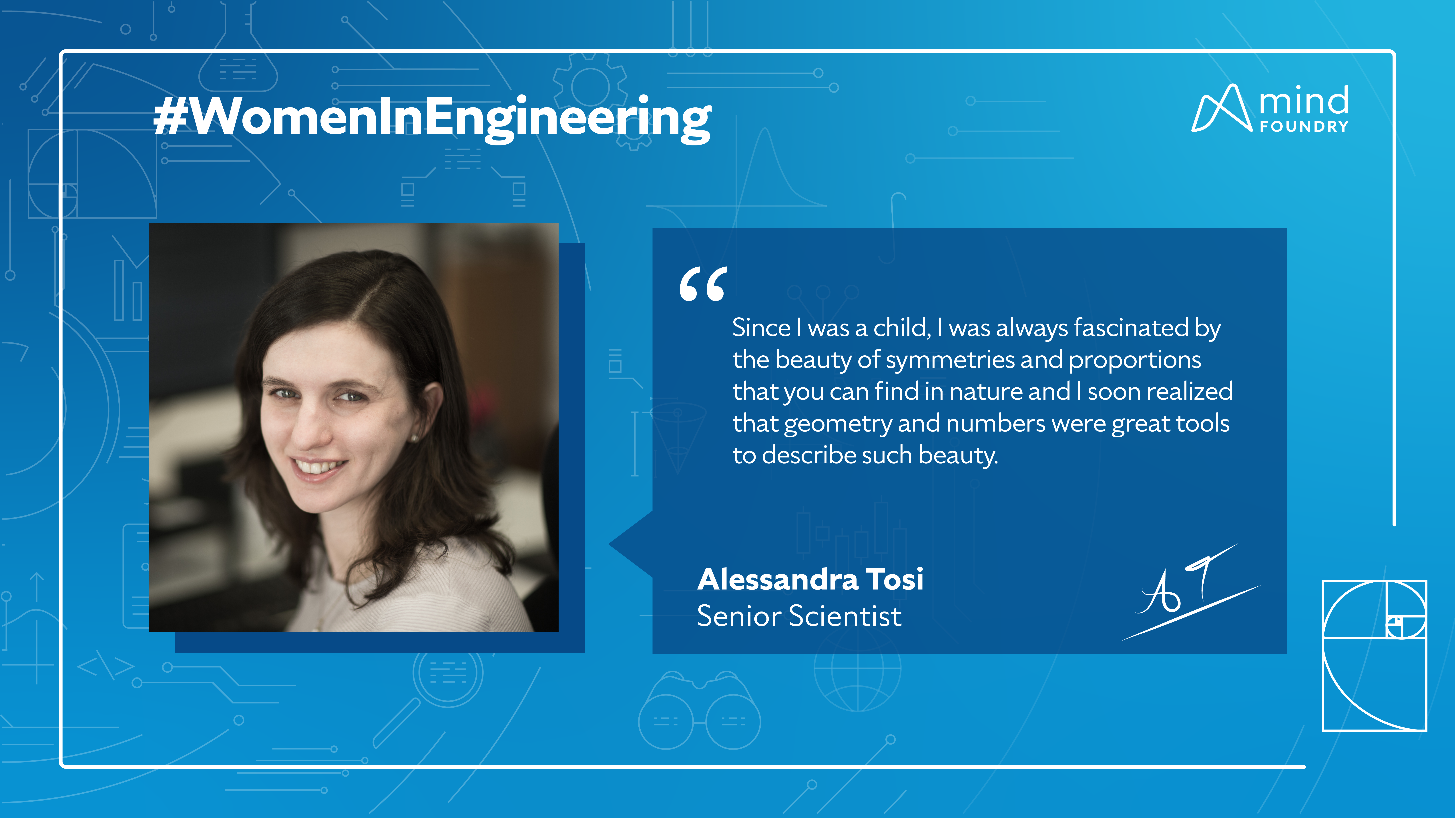 Alessandra Tosi - Senior Research Scientist
Like Madeleine, Alessandra was one of the first members of the team, part of a foundational cohort that joined in the summer of 2016. She jumped at the opportunity to join Mind Foundry because it gave her the chance to go beyond research and follow a machine learning solution all the way from idea to deployment in the real world. Mind Foundry gave her the chance to do that as well as to continue to work with our founders, Steve Roberts and Mike Osborne, with whom she had collaborated in her post doc research project at Oxford. She is active in the academic community while also having a profound impact on the technologies that power Mind Foundry's AI Platform, from Bayesian Optimisation to Green AI and more. Her PhD was on the interpretability of algorithms and she's continued to pursue this by helping us develop tools that make probabilistic techniques available to non-machine learning experts. Recently, she's taught a course on Ethical AI that is part of the Mind Foundry Academy and also participated in a round table discussion at CogX 2021 on how to use AI to improve human outcomes when it matters most.
In her own words
Since I was a child, I was always fascinated by the beauty of symmetries and proportions that you can find in nature and I soon realised that geometry and numbers were great tools to describe such beauty. Mathematics is for me the language of the universe; it is universal and objective, it helps you to both understand and explain things from first principles. Today I work in AI technology and I love to use this analytical approach to problem-solving. I break down problems to their bone, and push the boundaries of AI through the integration of software solutions and original research, that is also explainable.
---
Now Hiring
Founded by Professors Stephen Roberts and Michael Osborne, pioneers in the field of AI and Machine Learning, the mission of Mind Foundry is to create a future where AI and Humans work together to solve the world's most important problems. And we're hiring!
Diversity and inclusion are really important to us and we welcome applications from all candidates. View our job board and learn more about pursuing a career at Mind Foundry.