Between 2006 and 2010, there were 1,096 registered electric vehicles (EVs) in the UK. Since 2010 that number has exploded, and today there are an estimated 400,000 EVs on UK roads, not to mention more than 750,000 plug-in hybrids (PHEVs). With new technology inevitably comes new obstacles and complications and as EV numbers continue to soar, the provision of charging points to keep up with demand across the country is essential. However, recent figures suggest a growing disparity between the number of EVs and the level of charge point infrastructure, as well as a "regional divide" within the distribution of this infrastructure. The situation calls for a different approach to how EV infrastructure is implemented to ensure that, as more people switch to EVs, everyone who needs to access a charging point can do so, regardless of any geographical or socio-economic factors. Mind Foundry's work in this field aims to provide the solution to this growing problem at a time where the UK government has just committed £1.6 billion to expand the UK's charging network under their new Electric Vehicle Infrastructure Strategy.
The Fundamental Issue of EV Charge Point Access
The Guardian reports that between 2019 and 2021, the number of publicly available EV chargers rose by 82%. Whilst this might sound impressive, when you consider that the number of electric cars rose by 600% in the same period, it becomes clear that the number of public chargers is simply not growing fast enough. Historically the primary concern for EV owners was that their cars would run out of charge mid-journey. However according to Mike Hawes, the Chief Executive of the Society of Motor Manufacturers and Traders (SMMT), this fear has been replaced by "charge anxiety" - the fear that drivers won't be able to find a charge point.
The pressure to rectify these issues will only increase following the announcement in October 2021 that car manufacturers in the UK will be mandated to produce a growing proportion of zero-emission vehicles each year. Against the backdrop of the government's ambitious "decarbonisation pathways to Net Zero by 2050", consumers are being strongly encouraged to consider purchasing electric/hybrid alternatives to petrol and diesel vehicles. The question is, how do you convince people to do this if they don't have access to publicly available charging facilities?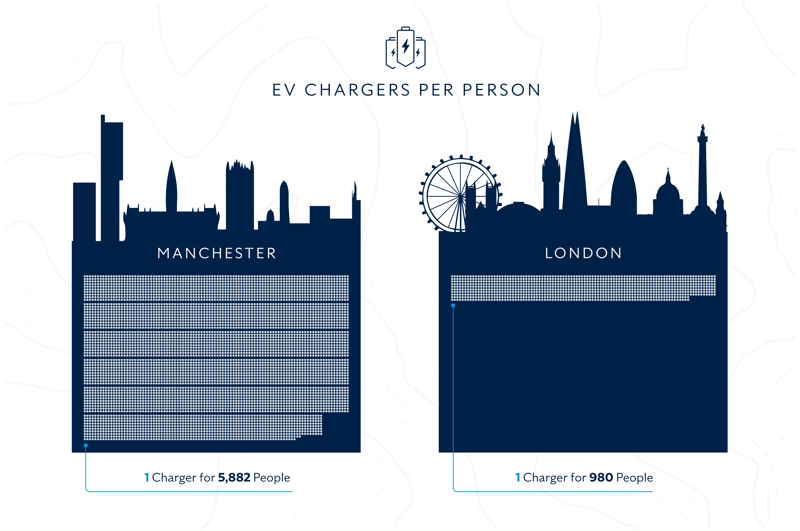 The "Regional Divide" and why it must be addressed
Keeping up with demand for charge points isn't the only issue. From an ethical perspective, access to charging facilities should be distributed evenly to ensure equitable access. In 2020, however, it became clear that London and the south-east benefited disproportionately from the installation of new electric car charge points, and in 2022 Greater Manchester has only 17 chargers per 100,000 people, compared with 102 per 100,000 in London. This poses a major problem because if this trend continues, and as EVs become more affordable and commonplace, then accessibility to EV charge points will increasingly benefit those in more affluent areas over those in areas of higher deprivation. Ultimately, people in less affluent areas will be forced to travel further to find facilities to charge their vehicles. If the government is serious about its plans for "Levelling Up the UK" then this is an issue that cannot be ignored.
The Mind Foundry solution
The solution appears to be fairly straightforward. To improve charging point infrastructure, simply build more charge points, right? Whilst that may seem obvious, Ben Nelmes, the head of policy and research at New AutoMotive, a thinktank focused on the transition to zero-emissions vehicles, says that "The rising issue we've seen with charge points isn't the number of chargers available". According to Nelmes, "We need to create a nationwide charging system based on the needs of the drivers''. In other words, authorities need to allocate charging points to the areas in which they will be needed most. These sentiments were echoed recently by Transport Secretary Grant Shapps who said "No matter where you live – be that a city centre or rural village, the north, south, east or west of the country – we're powering up the switch to electric and ensuring no one gets left behind in the process."
To facilitate this process, Mind Foundry has created a tool that uses Artificial Intelligence to allow any local authorities and charge point operators that are looking to implement EV infrastructure to optimise these plans incorporating the full spectrum of data at their disposal. The application combines geospatial modelling with multiple data sources to intelligently model and represent the changing requirements for EV charging infrastructure. To assess the tool's efficacy, Mind Foundry worked extensively with Oxfordshire County Council to evaluate their current infrastructure, expansion plans, and concerns for its implementation, in order to understand which areas would benefit most from new EV infrastructure. The resulting solution, according to Paul Gambrell of the EV Integration team with the OCC, "has the potential to make this work easier, simpler and more accurate than anything we have used previously".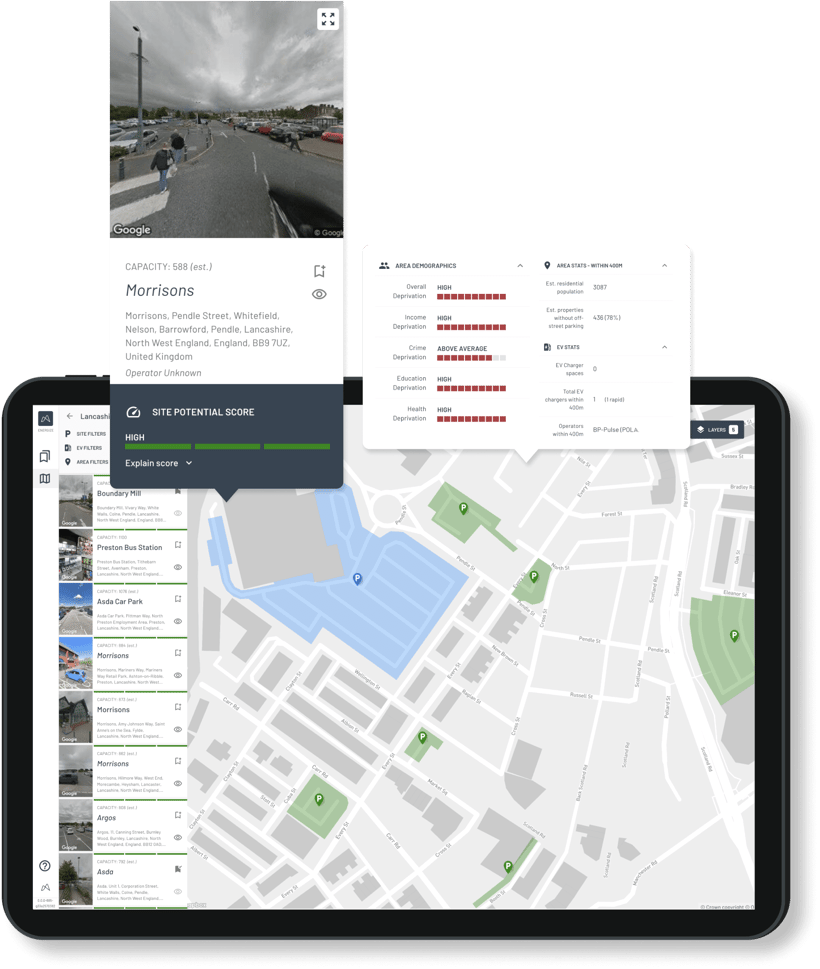 The human impact of this work is a built-in feature of this tool because, ultimately, the location of EV charge points will directly affect the lives of those who may need to use them. At Mind Foundry, we specialise in tackling high stakes problems that affect people's lives at both individual and population scale, which is why our application allows users to assess multiple factors, including different deprivation indices such as health, education, and crime. Crucially, this allows users to understand the full implications of their plans and ensure that charge point placement is rolled out fairly and evenly.
Click here to find out more about we're using Geospatial AI to distribute power more efficiently to over 350,000 charging points.
A High Stakes problem that Responsible AI can solve
Without immediate action, existing problems and disparity will continue to grow. In the meantime, as more and more people decide to buy EVs to reduce their carbon footprint, more and more people will need access to facilities for charging these vehicles. If we don't ensure that this growth is supported, sustainable, and equally beneficial, then the lives of the people that need this technology will be directly affected. This is what makes Mind Foundry's work so crucial and why our company is built on the foundation that technology can, and should, benefit everyone equally.
About Mind Foundry
Founded by world-leading academics from Oxford University, Mind Foundry develops AI solutions that help organisations in the public and private sector tackle high stakes problems at both individual and population scale while also enabling them to consider the ethics and long-term societal impact, performance, and return on investment of the technologies they are implementing.